We assist couples from all over the world to celebrate the wedding in the island they always dreamed about. From the catering to the venue, the decoration and all the small details that make each celebration unique and special.
Propuesta única de ventas
Artisans of celebrations
Garmendia Catering & Events is not the biggest catering company on the island. Not even the most experienced (we "only" have 20 years' experience). However, we can offer something that other companies cannot and that is very important for us. What do we offer? Time. Time and dedication. All the time you need to feel good and time for your celebration to come just the way you imagined. We stay by your side from the beginning until the end, including a complete wedding planner service without any extra cost. We not mass-produce events. We are event´s artisans.
MORE INFORMATION
SERVICES
WHAT KIND OF EVENT WOULD YOU LIKE TO CELEBRATE?
In addition to weddings, we can assist you organising other celebrations. But yes, the care we put and the quality of the catering stays the same.
SERVICES
Weddings
Do you bear in mind the wedding of your dreams and want to make it true? You just have to tell us what you want. We will go hand in hand during the whole process to ensure that everything goes as you imagined. From the slightest detail
MORE INFORMATION
SERVICES
Private events or corporate events
Something to celebrate? A launching? A presentation or inauguration? Tell us your idea and we will execute it so you do not have to worry about anything. We take care of the organisation, the decoration and the catering.
MORE INFORMATION
SERVICES
Private parties
Are you going to set a party and want to surprise the attendants? We have different options to make a great success of it. From the catering service to a show cooking, Spanish tapas, or a BBQ that will set the fire on your guests' eyes and mouth.
MORE INFORMATION
You made my dreams come true
The food was exquisite, Julio understood exactly what I was aiming for and did a fabulous job. The service was perfect, your team was so lovely to our guests. You made my dreams come true. Everything was absolutely wonderful. I could go on and on and on.
You really helped make it a wedding to remember for a lifetime.
We were very selective about the suppliers, but Garmendia Catering really stood out amongst all the ones we met. We trusted you from the first time we met you and you delivered more than we could have imagined. You really helped make it a wedding to remember for a lifetime.
Every single part of that day was better than my dreams!
Thank you for everything and coordinating a beautiful night! All of the guests said they had an amazing time and they really loved the food! Looking at some of the pictures from our day of the beautiful set up and decor and flowers it's so gorgeous I want to cry! Every single part of that day was better than my dreams. Just perfect.
Why choosing us?
We know that is easier said than done, but we still want to tell you all the advantages of working with us.
PERSONALISED SERVICE
As we already said we are happy not being the biggest catering in the island. This allows us to offer a personalised and close service for every client. Our co-founder Olga Vélez will offer you a direct attention from the beginning until the end. Both Julio and she will be present during the event to assist you and to offer solutions for any unexpected situation.
HIGH GASTRONOMY
All over his life, Julio Garmendia has been in charge of Michelin Star restaurants and he even had his own tv show in Canal Cocina. Now, with Garmendia Catering & Events Julio puts all his experience to your service, offering a high-quality cuisine, with local products, adapted to what you are looking for. He is a specialist in Spanish cuisine, but all that he touches turns into a delicacy.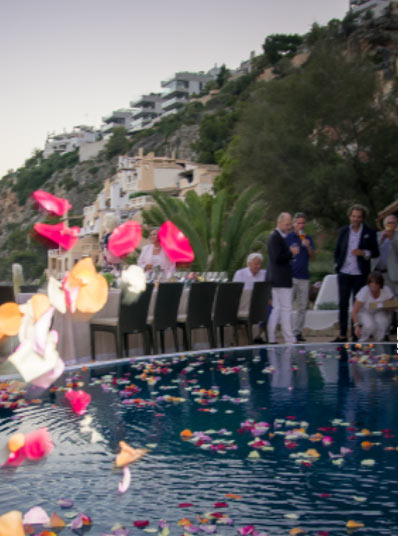 WEDDING PLANNER SERVICE INCLUDED
Over the years, we have realised that the catering service was not enough for many of our clients. This brought us to include a wedding planner service without any extra cost what makes the process even simpler. You will save the management and coordination of the different suppliers for the wedding. We take care of everything.
WOULD YOU LIKE TO ASK FOR A QUOTE OR HAVE A QUESTION?
Fill the contact form and we will get in touch with you to send you a quote or answer your questions.
more info + -
Event planner Mallorca
Looking for an event planner in Mallorca? Would you like to organise a family gathering or a corporate event? You are at the right place. At Garmendia Catering you will find a professional team specialised in events organisation that will handle every aspect of your event design: the venue sourcing, decoration, layout, atmosphere, sound and music, catering…
Our company provides the best events planners in Mallorca, headed by Olga Vélez, specialised in Protocol and Public Relations, who will accompany and advice you making your personal project come true including every organisation detail. In the other hand, Julio Garmendia, is the Chef in charge of the gastronomy team, who will add his personal view and expertise to the menu. With his basis of the traditional basque cuisine, some contribution of the Mediterranean and mallorcan cuisine and some innovative touches from the newest international culinary trends, the results are accurate dishes. Always respectful with raw materials, adding innovative and surprising elements, richly textured and flavoured. Our exclusive prices for catering for weddings in Mallorca will not deceive you.
A new concept for event planner in Mallorca
Our professional team will advise you about the best options for your unique event, whether you choose one of our selected venues (villas by the sea or in the mountains, in a modern or a rustic style) or you like to hold the event at your private house or at your company location. We offer innovative and bespoke solutions in every case. We are also specialised in wedding venues in Mallorca.
The team don´t just plan every detail, they accompany you during the whole organisation of the event. Contact us to get a proposal through our web form or by calling (+34 652 20 23 21 – +34 656 472 169). We will be pleased to listen to your ideas and advice you about every detail of your event organisation.